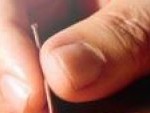 Een behandeling met acupunctuurnaalden duurt 45 minuten. Eerst vindt er een kort vraaggesprek plaats, wordt uw tong bekeken en worden beide polsen gevoeld. Vervolgens wordt u zittend of liggend geprikt. De steriele, verzilverde naaldjes blijven 20 tot 30 minuten zitten (afhankelijk van de klachten). Nadat de naaldjes zijn verwijderd wordt opnieuw uw pols gevoeld.
Acupunctuur is verreweg de meest bekende behandelmethode van de Chinese Geneeskunde in het westen. Het dankt zijn bekendheid aan de goede resultaten bij pijnbestrijding. De mogelijke inzet van acupunctuur gaat echter veel verder; de Wereld Gezondheid Organisatie (WHO) beschrijft meer dan vijftig aandoeningen, klachten, waarbij acupunctuur kan helpen.
Enkele zijn:
Pijn
Allergieën
Spijsverteringklachten (slokdarm, maag, lever, darmen, etc.)
Overgangsverschijnselen
Gewrichtsklachten
Slaapstoornissen
Psychische problemen
Ademhalingsklachten
Verslavingsproblemen
Ooracupunctuur
De oorschelp is op zichzelf een complete weerspiegeling van het lichaam. Elk acupunctuurpunt in het oor correspondeert met een lichaamsdeel, orgaan of functie van het lichaam; anatomie en fysiologie worden op vaste plaatsen of punten in het oor weerspiegeld. Als het lichaam uit balans is, zijn de corresponderende punten in het oor extra gevoelig. Deze punten worden behandeld met acupunctuurnaaldjes of met verblijfsnaaldjes (kunnen langere tijd blijven zitten).
Enkele voorbeelden waarbij ooracupunctuur ingezet kan worden zijn:
Anti-rook behandeling (Stoppen met roken)
Anti-obesitas behandeling (Afvallen)